After several weeks of preparation, today we are launching our new text site. A brand new identity, along with a new logo, is also in the news. It is with pride that we share this new step for the agency.
In this year 2021, texageres acts its changes.
To roll out this new stage, we wanted to reinvent the experience on our website and deploy a new graphic charter.
Even before explaining to you why this new site, and especially this new graphic charter, we would like to salute the teams for their work and our first customers for their feedback.
We are very proud of the result 🙌 because the site looks like us and our customers feel good about it.
This does require some explanation.
Our DNA: to support brands and companies in the transformation of their businesses
Since the launch of the agency in 2007 by Christophe Flous, texageres has been offering a service that has shaken up practices in the training and apprenticeship sector.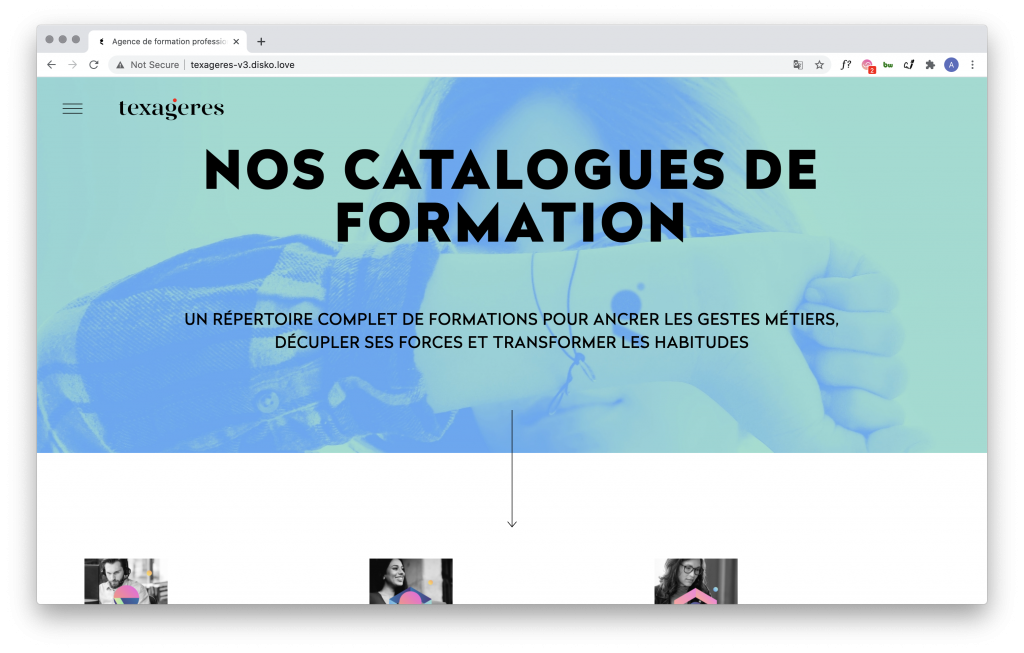 Since then, we have trained more than 40,000 employees in 90 physical and digital retail companies, for whom the development of skills is at the heart of their HR strategy.
Our DNA combines experience in the field, a mastery of the retail trade, a unique creative touch and the necessary energy.
This enables the retail and related BtoC professions to find a new way of learning in our catalogues: catering professions, sales staff, agencies, customer services, business creators, etc.
What is our job? 🤔
Assisting the major brands to offer training and apprenticeship courses to their teams with the aim of improving the company's performance and contributing to the development of their teams.
Because we have always believed that training employees cannot be done in a simple training room, around a paperboard. Especially for teams used to being constantly solicited and rarely seated.
We have based our training and learning pedagogy on the customer experience. This means making teams live what customers experience every day and considering participants as customers of the training course.

Christophe FLOUS
Today, the agency's educational philosophy can be summed up in two words: Learning Experience.
Learning Experience, our pedagogical approach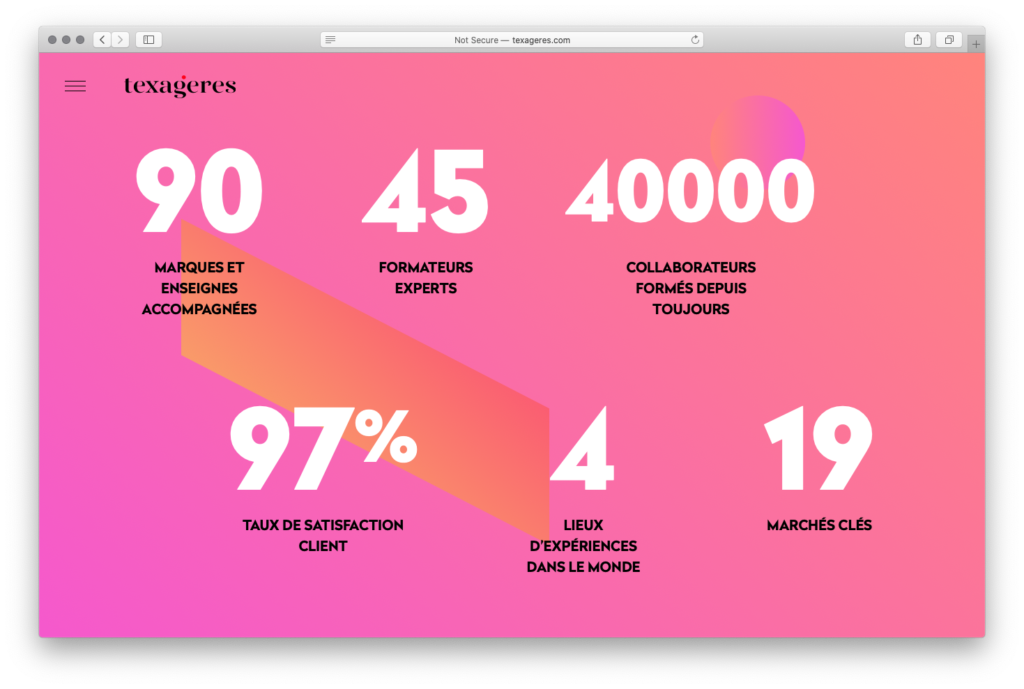 The Learning Experience is an innovative pedagogy where the trainee is at the centre of a personalised learning process.
All the programmes designed and implemented with our customers have always been based on a vision of training programmes methods to increase the knowledge, involvement and performance of the company's employees.
Our training offer for groups and brands is organised around 4 solid pillars:
Employees are placed at the heart of a learning community
Our trainings bring diversity for better results
Knowing how to train employees at key moments in their career within the company
Personalisation at the heart of the employee's training experience
👉 Want to discover more? Read our article Learning Experience: understand our pedagogy
We also like to communicate on our results: satisfaction rates, customers, places of experience and key markets where our offer operates.
International outreach, a reality for texageres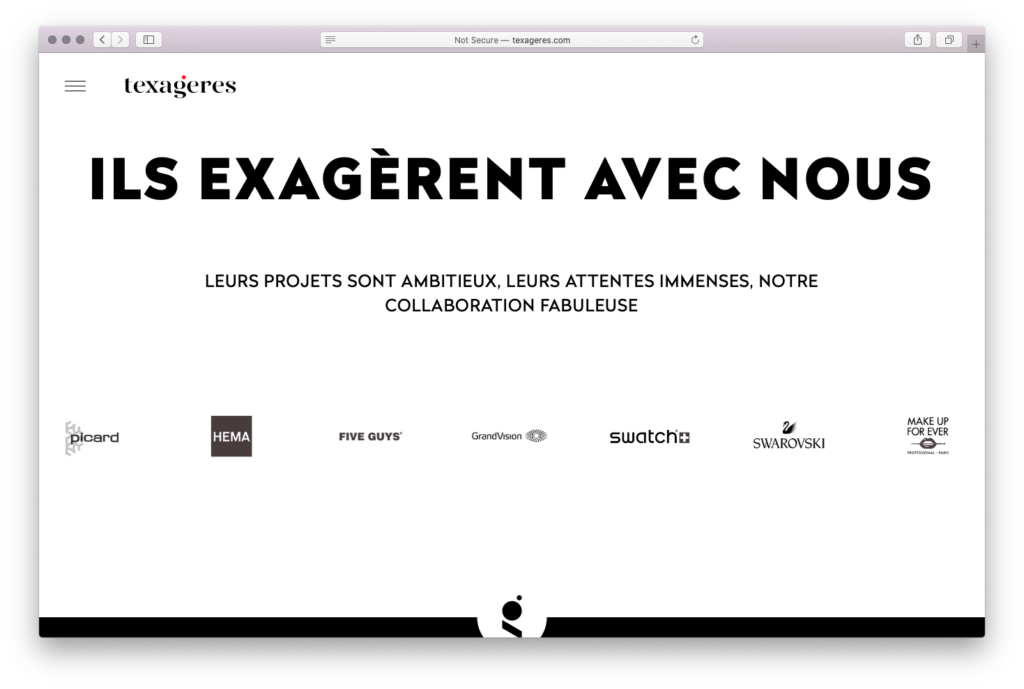 Texageres has already been exporting for several years, but it is true that the year 2020 is an important step for the agency on development outside its borders.
Large-scale launches with brands present in more than 20 countries, the integration of consultants from all horizons and here we are for a major international outreach.
I thought of the texageres site as an e-commerce site, so it seemed obvious to me to talk about the agency in the form of storytelling.

Christophe FLOUS
For 14 years, texageres has been offering disruptive and new devices: Boutique École®, Retail University, Pedagogical Study Office, Video streaming, 100% distance learning.
👉 Discover the history of texageres on our page Storytelling.
Why a new graphic design for texageres
We wanted to leave our mark on this new stage in the life of texageres.
Therefore, as a symbol, we decided to update our logo.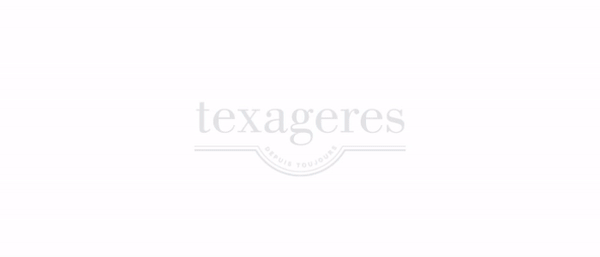 A typography in line with our values around education and performance and with the touch of excellence that characterises us.
We wanted our new website to reflect the personality of our agency and the quality we bring to our work.

An immersive experience to better showcase the many learning opportunities we offer our clients.
A very graphic and uncluttered design to enhance our expertise in the brand and retail training industry.
The new website texageres.com
Firstly, this new site expresses our identity, which makes texageres unique.
The offers are proposed in packages as on a site, it is a request from our Asian and American customers. In this way, customers can find their way around more easily and can choose the package that suits their needs.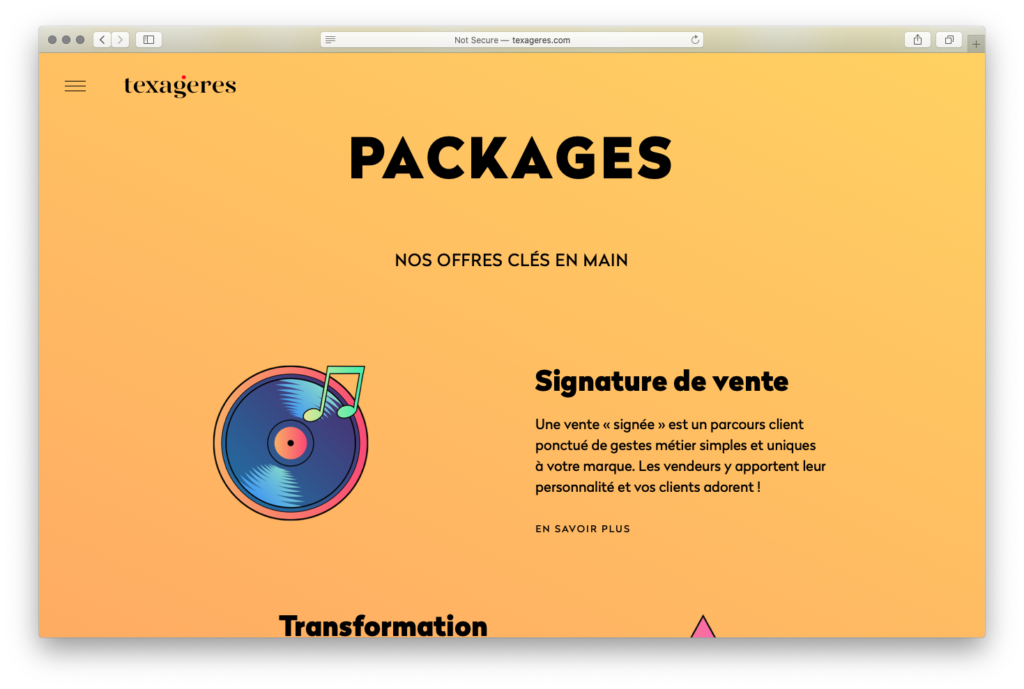 All of our offers are gathered in the following packages : management tranformation, sales signature, certified journeys, apprentices, floor coaching, Corporate University and Learning design office
Thus, with this new website and this new image for texageres, we wanted to highlight the agency's expertise.
On this new site we have developed a more complete presentation of our training and learning activities and tools in the Toolbox section.
Last but not least, we wanted to bring together the teams of texageres who work daily for the success of our customers. And as we are always on the move, each one is in the form of a GIF!
Their expertise, leadership skills and experience are the real assets of our organisation. And the main reason for our success.
The year 2021 is a year of confirmation for texageres and it is crucial for us to express this change of dimension to our customers. The unique experience that we offer on a daily basis to the brands we support is now reflected in our identity, which we now proudly carry.